Russell Mini Tours operates year round from the Russell Wharf
Romantic Russell – Steeped in history with a very chequered past. Spend a comfortable hour aboard our air conditioned Mini Coaches as we take you back in time telling you stories going back to the earliest settlers whilst visiting places of significant historical interest not easily covered on foot, and   discover why Russell has played such an important role in the history of New Zealand
Take a guided tour of New Zealands most historic town on board one of our comfortable coaches. The informative tour takes you past Flagstaff Hill out to Tapeka Point and over to Long Beach to name a few magical places. The tour gives you a full run down of historical events by our charming guides and takes around an hour to complete. You will travel in comfort and learn all there is to know about our historic town with Russell Mini Tours.
Prices are:
Auldts $35, Children $17.50, Under 5's are free
Departs Russell Wharf – year round
10am, 11am, 1pm, 2pm, (3pm summer only)
Charter coach hire – Bay of Islands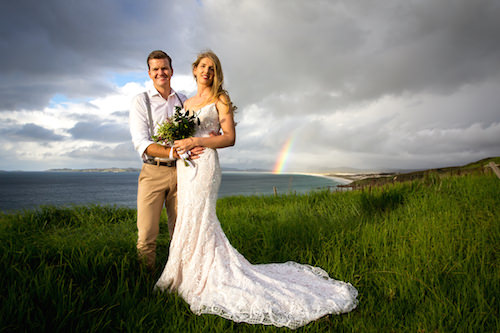 Russell Mini Tours offer coaches for charter services in the Bay of Islands.
We have two coaches and a mini van for your transport requirements. For weddings (or any event) we offer transport to and from your venue and can accommodate 18 per coach and 9 for the mini van.
After reading the reviews I thought one hour couldn't hurt. We were pleasantly surprised. I'd previously had four holidays in BOI, but I didn't know most of the things we learnt during an hour with Kelly. I highly recommend this as an overview of Russell that leaves time for you to return and immerse yourself in your personal hilights. Good value considering the time and trouble that private research and exploration would have taken!
Russell Mini Tours is proud to be a Project Island Song Corporate Member 2022-2023.
Project Island Song is a wildlife sanctuary in the Bay of Islands. A collaboration between ngā Hāpu o Te Rawhiti, Ngāti Kuta and Patukeha, and the Guardians of the Bay of Islands community group. Together, the vision is to protect, sustain and help restore the natural wildlife of the Ipipiri archipelago, to enable this special place and people to thrive now and for future generations.
Project Island Song has successfully ensured that the seven main islands of Ipipiri, in the eastern Bay of Islands, have been pest mammal free since 2009, allowing the natural eco-systems to be restored.
As a Corporate Member Russell Mini Tours has contributed five trees to be planted on the islands this year. These trees help the ongoing ecological and habitat restoration of the islands, enabling rare and endangered species to call these islands home.
Russell Mini Tours is committed to supporting the vital work and ongoing sustainability of Project Island Song. Enabling the islands and its precious wildlife to flourish for future generations to enjoy.
You can help too, for more information about Project Island Song or to get involved by volunteering your time, making a donation or becoming a member please visit www.projectislandsong.co.nz or email info@projectislandsong.co.nz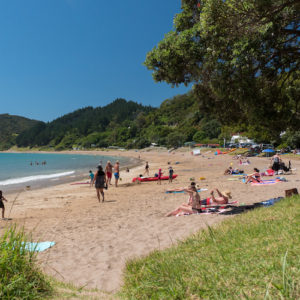 Long Beach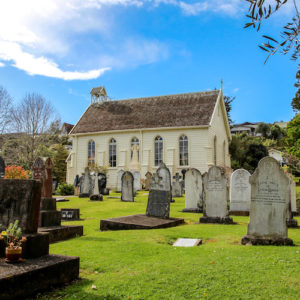 Christ Church
History and charm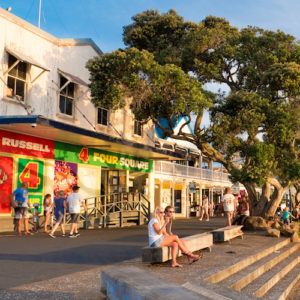 Russell Foreshore